Airborne Intelligence
FMS Aerospace designs support missions such as hotspot monitoring for wildfires, atmospheric meteorological data collection, and Intelligence, Surveillance, and Reconnaissance applications. Whether high altitude or low altitude data collection, FMS Aero has extensive experience with turbo props, jet, and helicopters with OEM such as Bombardier, Gulfstream, Bell, Textron, Cessna, Pilatus, and more. Our team design and certification experience includes:
Simple and Complex repairs
Belly mounted sensors and radomes
Pressurized fuselage sensor ports
Data links
Equipment Racks and Operator Workstations
Wing Hardpoint

Aircraft Modification and Certification
FMS possesses intimate knowledge of various airworthiness processes and can rapidly identify and generate the data requirements to certify your aeronautical product with the appropriate authority. Whether your project falls under civil or military airworthiness jurisdiction, FMS Aerospace is experienced with US Army, US Air Force, FAA, Transport Canada, CAA, EASA, and NASA Standards.  Our services support Commercial, Special Mission,
 and International applications and cover such disciplines as:
Certification Plan Development
Compliance Demonstration with Airworthiness Regulations
Design / Fabrication
Systems Integration and Testing
Conformity Inspection Support
Test Witnessing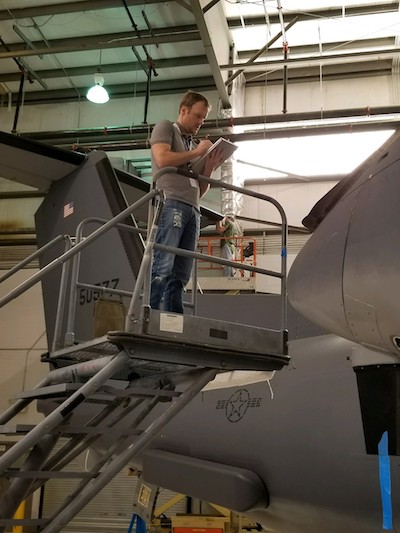 Lightweight, durable, EIA-310 standard 19″ equipment/instrumentation rack solution.
The modular equipment rack is designed to attach directly to the aircraft seat tracks, allowing for quick installation and removal. The rack is manufactured from high strength aluminum alloy plates to optimize weight and meet or exceed FAA required emergency landing loading.
Standard Line-Replaceable Unit (LRU) hole patterns are pre-drilled on both the front and back panels to accommodate all equipment sizes and shapes. Standard rack sizes range from 6U all the way up to 36U. The stackable design allows for the grouping of sensor-specific equipment into separate racks which may quickly be installed and removed based on mission sensor configurations.
Racks are assembled or disassembled in less than 15 minutes, allowing for easy storage and shipping. The equipment racks can be shipped fully assembled and populated with equipment in standard pelican cases. With keyboard and monitor customization available, the racks are easily converted into a hybrid equipment rack/operator workstation.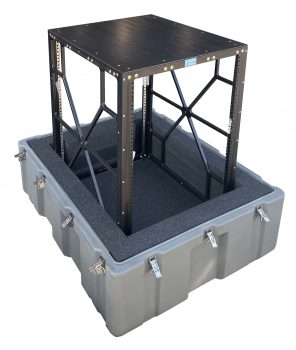 To request a quote online, please provide your name (required), email (required), and organization (required) along with any other details. Thank you for your interest in FMS Aero, our engineers look forward to speaking with you and will be in touch.