The Modular Equipment Racks (MER) is a lightweight, durable, standard 19″ equipment/instrumentation rack solution that meets and exceeds FAA airworthiness requirements.
Key Features:
FAA 8110-3 Certification Available
Lightweight & Cost Effective Design
Rack Height, Width, and Depth Customizable
Vibration/Shock Isolation Available
Fully Enclosable
Capable of housing up to 500 lbs of Equipment*
The MER is designed to attach directly to the aircraft seat tracks, allowing for quick installation and removal.  The rack is manufactured from high strength aluminum alloy plates to optimize weight and meet or exceed FAA required emergency landing loading.  Standard Line-Replaceable Unit (LRU) hole patterns are pre-drilled on both the front and back panels to accommodate all equipment sizes and shapes.  Standard rack sizes range from 6U all the way up to 18U.  The stackable design of the racks allow for the grouping of mission specific equipment into separate racks which can quickly be installed and removed based on mission profiles.  A rack can be assembled or disassembled in less than 15 minutes, allowing for easy storage and shipping.  The equipment racks can be shipped fully assembled and populated with equipment in standard pelican case sizes.  With keyboard and monitor customization available, the racks can easily be converted into a hybrid equipment rack/operator console.
*  Maximum rack equipment weight dependent upon aircraft and equipment CG.
---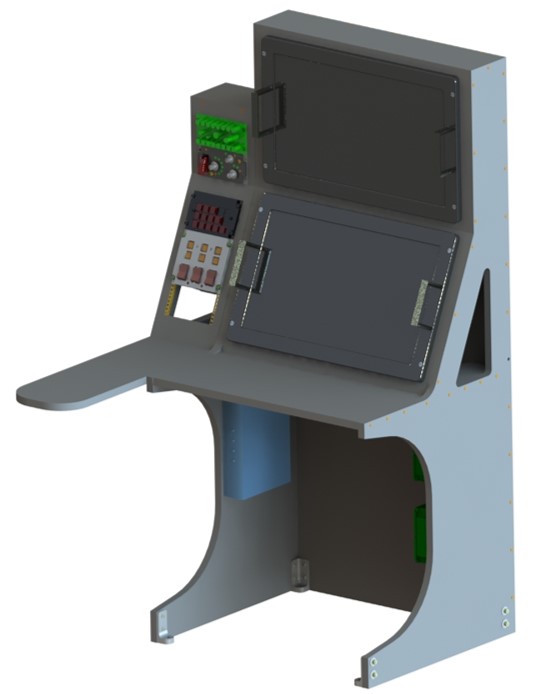 The FMS Aero Operator Console is a lightweight, single operator, dual monitor workstation that can be installed in various configurations on multiple platforms.  Custom workstation installations are feasible in smaller aircraft with minor modifications and substantiation. The features of the Operator Console include:
Dual monitors up to 23.5″
Sideboard with 17″ of Dzus rail for equipment mounting
Constructed with FAA certifiable materials and processes
Rated to FAA FARS 25.561 Emergency Landing Loads
Typical Dimensions:  H 57″, W 26″, D 22″
Custom equipment mounting and other options available
---
The Tactical Flight Station (TFS) is a dedicated workstation designed for aft cabin control of an onboard  sensor system on a Bell 407 helicopter.  Utilizing the TFS, the Tactical Flight Officer can direct day and night imaging missions resulting in reduced task saturation of the crew during critical phases of a mission.  The TFS attaches to the existing seat mounts of the aft facing seat, requiring no modification to OEM structure.  The TFS can be swapped out with the LH aft facing seat in less than 15 minutes, maintaining maximum passenger flight configurations.  Features include:
Dual Adjustable HD Monitors
Standard 19″ LRU Mounting
Customizable front mounting plate for non 19″ equipment
For pricing and ordering, please email info@fmsaero.com.